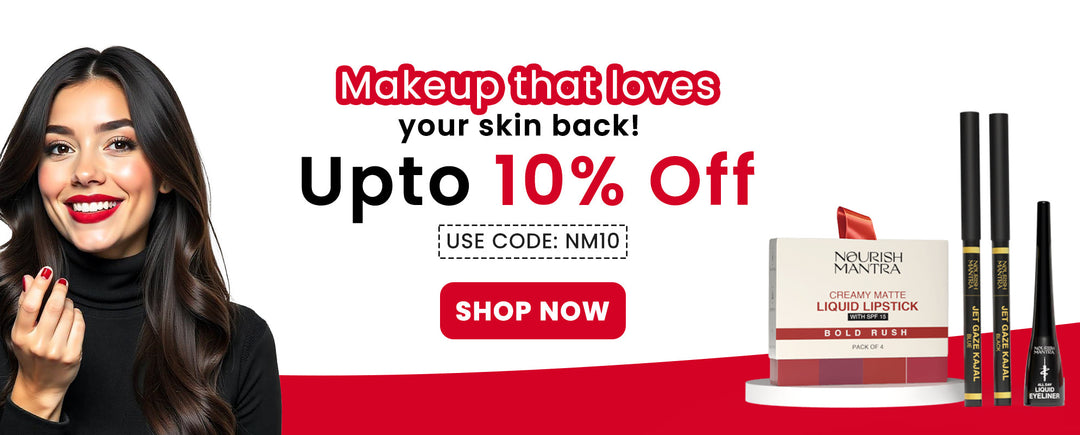 Filter
The movement towards sustainable and eco-friendly practices in the beauty and wellness industry is gaining immense popularity. People are genuinely concerned about the impact their existence has on the environment. Organic and natural beauty products are a remarkable step towards the same. These facial care beauty products are incredibly gentle on the skin and are free of toxins and harsh chemicals, thanks to which they do not have any harmful side effects on the skin.  
Adopt and encourage a sustainable lifestyle, starting with beauty routines. Indulge in Nourish Mantra's combo skin care products. Made of 100% natural ingredients, these house formulas are inspired by ancient Ayurvedic beauty and wellness techniques. 
Experiment with different products or pick a skincare products combo pack that exclusively tackles skin conditions like aging, acne, dryness, etc. Be it a themed skin care combo pack or the entire collection of our face was for acne and facial cleansers, you will indulge in a therapeutic experience. So relax and let loose as you pamper yourself.   
Build meaningful relationships and nurture the bonds that you hold dear to you in your life. Then, show your gratitude and appreciation by gifting your loved ones a skincare products combo pack. Love and joy increase as we spread it, so the next time you want to show your love for your mother, thank your sister for always having your back or appreciate the presence of your girlfriends in your life, shower them with combo skincare products from Nourish Mantra.  
We are a brand whose roots are deeply penetrated in Ayurveda. We believe in sustainable beauty practices and are strictly against animal cruelty or animal testing. A person's true beauty is both inside and outside, and we encourage women to embrace the same.