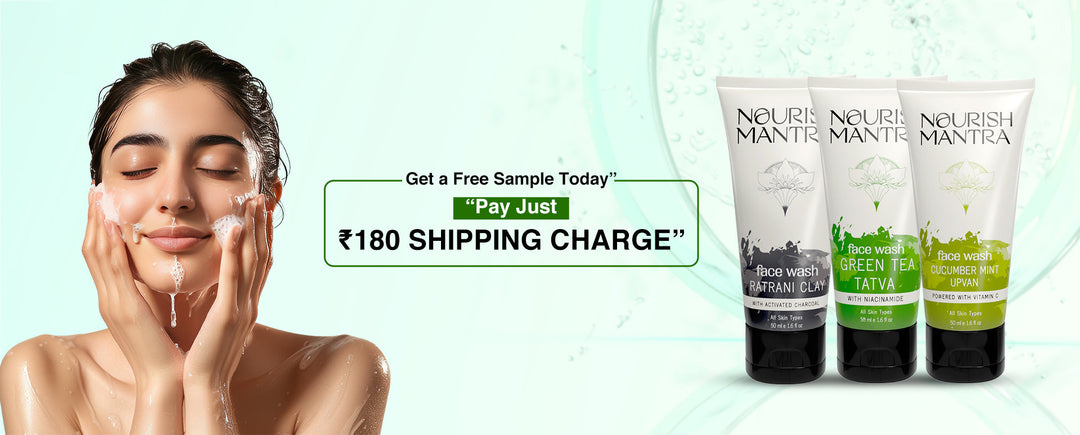 Filter
Buy Sunscreen Cream Online in India
When it comes to following a skincare routine, one of the most important steps is applying sunscreen to protect your precious skin. And if you're looking for the best sunscreen in India that uses natural extracts, look no further than Nourish Mantra. Our sunscreen formulated using natural extracts, provides the ultimate protection against harmful UV rays. With a blend of nourishing ingredients and SPF 50, our sunscreens not only shield your skin but also moisturize and nourish it. Don't compromise on your skin's health and beauty. Choose the best natural extracts sunscreen and make it an essential part of your skincare routine with Nourish Mantra.
What is Sunscreen?
Sunscreen is a lotion, gel, or spray that provides protection to your skin from harmful UV rays of the sun. Both men and women should use sunscreen every day, irrespective of the season. This is because UV rays can damage your skin even on a cloudy day, and they can penetrate through windows too. Sunscreen helps to prevent sunburn, premature aging, sun spots, and other skin-related problems. It's important to choose a sunscreen cream that is right for your skin type, and our sun cream for men and women makes it easy to find the perfect fit for you. So make sure you add sunscreen to your daily skincare routine and keep your skin healthy and protected.
Benefits of Using Sunscreen Cream for Face
Using sunscreen is an essential step in any skincare routine, and when it comes specifically to your face, the benefits are even more pronounced. Let's explore why sunscreen is crucial for both men and women and why finding the best sunscreen for your specific needs is important. Our sunscreen is the best sunscreen for men and women, ensuring that everyone can find the perfect fit for their skin.
Here are Some Key Benefits of Using Sunscreen:
1. Protection Against Harmful UV Rays

Sunscreen creates a protective barrier on your skin, shielding it from harmful UV rays. Regular use of sunscreen, especially one with a high SPF as it effectively helps to prevent sunburn and skin damage caused by prolonged sun exposure.
2. Prevention of Premature Aging
The sun's rays are one of the leading causes of premature aging. By using sunscreen daily, you can significantly reduce the risk of developing wrinkles, fine lines, and age spots. Look for a sunscreen with broad-spectrum protection and a high SPF to safeguard your skin against photoaging.
3. Reduction in the Risk of Skin Cancer
One of the most important benefits of sunscreen is its ability to lower the risk of developing skin cancer. Exposure to UV rays is a leading factor in the development of skin cancer, and sunscreen acts as a barrier, protecting your skin from these harmful rays.
4. Minimization of Hyperpigmentation
Sun exposure can lead to the development of dark spots, also known as hyperpigmentation. By using sunscreen regularly, you can prevent the overproduction of melanin, which is responsible for these dark patches, thus maintaining an even skin tone.
5. Preservation of Overall Skin Health
Regular use of sunscreen helps to keep your skin healthy and nourished. It acts as a shield, protecting your skin from environmental damage and maintaining its natural moisture levels. Choose the best sunscreen in India that suits your skin type to ensure optimal protection.
Incorporating sunscreen into your daily skincare routine is vital for maintaining healthy and youthful-looking skin. Whether you're a man or a woman, finding the right sunscreen cream with a suitable SPF level and broad-spectrum protection is essential. Invest in the best sunscreen for men and women and make it a non-negotiable part of your skincare regimen to enjoy these benefits and keep your skin at its best.
How to Choose the Best Sunscreen?
When it comes to choosing the best sunscreen for everyday use, there are various options to consider. Two broad categories of sunscreen are mineral sunscreens and chemical sunscreens.
Mineral sunscreens contain active ingredients like titanium dioxide and zinc oxide, which provide a physical barrier against the sun's rays. They are best suited for people with sensitive skin, as they are less likely to cause irritation.
Chemical sunscreens, on the other hand, contain chemicals like Homosalate, Ethylhexyl Methoxycinnamate, Diethylamino Hydroxybenzoyl Hexyl Benzoate that absorb the sun's rays and convert them to less harmful energy. They are lightweight and easy to apply, making them a popular choice for daily use. Chemical sunscreens, like Nourish Mantra's sunscreen, use new-age natural extracts and offer broad-spectrum protection with SPF 50. Our lightweight, non-greasy formula makes it the perfect choice for daily use. Prioritize your skin type, desired SPF level, and ingredients when choosing a sunscreen brand to ensure effective sun protection.
When to Apply Sunscreen?
Regardless of the season or gender, sunscreen should be applied at least 15-30 minutes before sun exposure. It is crucial to reapply every two hours, especially during activities that cause sweating or water exposure. Cloudy days and winter months still pose risks from UV rays, so daily application is necessary. Choose a sunscreen for women and men with broad-spectrum protection and a suitable SPF level, such as Nourish Mantra's range, to keep your skin protected and healthy throughout the day.
How to Use Sunscreen?
It's important to apply sunscreen properly to ensure maximum protection against harmful UV rays. Here are the steps to follow for effective application:
Start by selecting a sunscreen with a broad-spectrum SPF of at least 30 or higher. Take a sufficient amount of sunscreen, approximately 1 to 2 teaspoons, to cover all exposed areas of the body.

Apply sunscreen evenly on the skin, covering all areas of the body that are likely to be exposed to the sun. This includes face, neck, arms, and legs. Don't forget to apply sunscreen to the tops of your feet, your ears, and the back of your neck.

Gently rub the sunscreen onto your skin in a circular motion until it is fully absorbed. Ensure that the sunscreen is not thickly layered or left unabsorbed on the skin.

Wait for at least 15-30 minutes for the sunscreen to settle before going out in the sun. Reapply sunscreen every 2 hours, especially if you have been sweating or swimming.

If you are wearing makeup, apply sunscreen before make-up and use a compact or powder-based sunscreen while touch-up throughout the day.
What is Spf in Sunscreen?
SPF stands for Sun Protection Factor and measures a sunscreen's ability to protect against UVB rays. It indicates the time you can spend in the sun without getting sunburned compared to not wearing any sun protection cream. However, SPF only addresses UVB protection and not UVA rays. To ensure broad-spectrum protection, choose a sunscreen labeled "broad-spectrum" or "UVA/UVB protection." Higher SPF numbers offer increased protection, but proper application and reapplication every two hours are crucial.
Shop for Best Sunscreen for Mens & Womens Online at Nourish Mantra
Discover the ultimate solution for sun protection and skincare with Ray Rescue SPF 50 Sunscreen. Our sunscreen is enriched with a powerful combination of hyaluronic acid, aquaxyl, aloe vera extracts, ashwagandha extracts, and new-age chemicals, designed to provide the best skincare and protection against harmful UV rays.
Not just a sun protection cream, Ray Rescue Sunscreen offers additional benefits such as 3-D hydration, a non-sticky formula that quickly absorbs into the skin, and leaves no white cast post-application. With its impressive SPF 50, it ensures maximum sun protection.
Experience the best sunscreen in India at Nourish Mantra, where we prioritize both skincare and sun protection. Invest in the highest-quality SPF 50 sunscreen for healthy and well-nourished skin.
Buy Sunscreen and Other Natural Skin Care Products Online at Nourish Mantra
At Nourish Mantra, we offer a wide range of natural personal care products that are designed to cater to all your skincare, hair care, and bath & body care needs. Our brand is committed to using only the finest natural ingredients, ensuring that each product is vegan and cruelty-free.
What sets us apart and makes us the best choice for your skincare needs is our dedication to conscious living and holistic wellness. We believe that beauty should stem from the harmony of the body, mind, and soul. Inspired by traditional Indian beauty philosophies, our formulations are carefully crafted to reflect these principles.
When you shop at Nourish Mantra, you can trust that you are investing in products that not only nourish your skin but also align with your values. We take pride in offering clean and cruelty-free beauty options, letting you care for yourself while being mindful of the environment and animal welfare.
Additionally, we understand the importance of staying connected with our community. That's why we have a strong presence on social media platforms like Instagram, Facebook, YouTube, and our website blogs. Through these channels, we engage with our customers, sharing information about our products, the ingredients we use, industry trends, and enlightening facts about the world of skincare and personal care products.
FAQ's
Is sunscreen good for skin?
Yes, sunscreen is essential for skin health. It helps protect the skin from harmful ultraviolet (UV) radiation, which can lead to sunburn, premature aging, and an increased risk of skin cancer. Regular use of sunscreen can help maintain healthier and younger-looking skin.
When to apply sunscreen before or after moisturizer?
It is generally recommended to apply sunscreen as the last step in your skincare routine, after moisturizer. This allows the moisturizer to penetrate the skin and provides a barrier of protection between your skin and the damaging effects of the sun. Applying sunscreen before moisturizer may dilute its efficacy.
Can I apply sunscreen without moisturizer?
Yes, you can apply sunscreen without moisturizer. However, using a moisturizer underneath sunscreen can provide additional hydration and nourishment to the skin. If you have oily or acne-prone skin, you may choose a lightweight or oil-free moisturizer or opt for a moisturizer with SPF to streamline your routine.
Can we apply sunscreen at night?
Sunscreen is primarily designed for daytime use to protect the skin from the sun's UV rays. There is no need to apply sunscreen at night, as it won't provide any additional benefit during that time. Instead, focus on using nighttime skincare products that promote skin repair and rejuvenation.
How much sunscreen to apply on your face?
It is recommended to apply about a nickel-sized amount (approximately 1 to 2 teaspoons) of sunscreen to cover your entire face and neck adequately. Applying an insufficient amount can result in inadequate protection, so it's important to be generous in the application.
How much SPF is good for sunscreen?
A broad-spectrum sunscreen with SPF 30 or higher is generally recommended for adequate protection against both UVA and UVB rays. Higher SPF values provide a higher level of protection, but it's important to note that no sunscreen can provide 100% protection. Remember to reapply sunscreen every two hours and after swimming or excessive sweating.
Can we apply moisturizer after sunscreen?
It is generally recommended to apply sunscreen as the final step in your skincare routine, after applying moisturizer. However, if you prefer to apply moisturizer after sunscreen, look for lightweight formulations that won't disrupt the sunscreen's efficacy or leave a heavy residue on the skin.
Can we apply sunscreen after vitamin C serum?
Yes, you can apply sunscreen after vitamin C serum. Vitamin C is typically applied in the morning to help protect the skin from environmental damage and boost collagen production. After allowing the serum to absorb, applying sunscreen provides additional protection against UV radiation.
Can I apply sunscreen after toner?
Yes, you can apply sunscreen after a face toner. After cleansing and toning your skin, you can proceed with the rest of your skincare routine, including applying sunscreen as the final step. Make sure to allow each product to absorb fully before applying the next one.
Is it good to use sunscreen daily?
Yes, it is highly recommended to use sunscreen daily, regardless of the weather or the season. UV rays can damage the skin even on cloudy days, and cumulative sun exposure over time can lead to skin damage and increase the risk of skin cancer. Using a broad-spectrum sunscreen every day is crucial for protecting your skin.
Is SPF 50 good for your face?
SPF 50 provides a high level of protection against UVB rays. It blocks approximately 98% of UVB radiation, while SPF 30 blocks around 97%. SPF 50 is generally considered good for the face, especially for individuals with fair or sensitive skin, a history of skin cancer, or prolonged sun exposure. However, the most important factor is application and reapplication of sunscreen consistently and adequately, regardless of the SPF level.