How To Use
Hair Finishing Stick -
Tie your hair in your favorite hairstyle
Spot those flyaways
Apply a stroke of a hair finishing stick to smoothen/flatten hair
Sleek and shiny hair, stay all day
Green Tea Face Wash -
Apply the cleanser on your wet face and neck
Massage gently in circular motions
Rinse with water and pat your face dry
Use twice daily
Mask Mini Trio -
Apply a generous amount of the mask on your wet face and neck
Avoid the area around the eyes
Keep the mask on for 5 minutes for delicate skin and 10-15 minutes for normal skin
Rinse it off with lukewarm water
Temporary redness may appear due to lactic acid which is normal
For best results, use at least once a week
Patch test on face is recommended
Ingredients To Introduce Themselves
VITAMIN E
Vitamin E is a powerful solution for dry, dull hair. It provides the much-needed moisture, replaces the protective layer & brings back the shine.
JOJOBA OIL
Jojoba oil is a lightweight sealant that prevents moisture loss by forming a protective film along the hair shaft. Its silky, oily texture penetrates effortlessly & nourishes the texture.
ARGAN OIL
Argan Oil is an old-age beauty secret that has fatty acids & vitamin E that promotes hair elasticity, tames frizziness, rejuvenates damaged hair, imparts shine & smoothens the hair.
More Information
Hair Finishing Stick -
Flatten Baby Hairs
Strong and Long-Lasting Stay
Lightweight, Compact, and Travel-Friendly
Gree Tea Face Wash -
Fights Against Aacne Causing Bacteria
Gently Exfoliate for Squeaky Clear Skin
Clear the Clogged Skin Pores
Sloughs Away Dead Skin Cells
Controls Excess Oil Production
Gives Healthy, Glowing Skin
Mask Mini Trio -
Nourishes the Skin Pores and Absorbs Excess Oils
Stimulate Blood Circulation
Combats Early Signs of Aging
Diminishes Hyper-Pigmentation
Gives your Skin a Nourishing Glow
Suitable for All Skin Types
Hair Finishing Stick -
Tie your hair in your favorite hairstyle
Spot those flyaways
Apply a stroke of a hair finishing stick to smoothen/flatten hair
Sleek and shiny hair, stay all day
Green Tea Face Wash -
Apply the cleanser on your wet face and neck
Massage gently in circular motions
Rinse with water and pat your face dry
Use twice daily
Mask Mini Trio -
Apply a generous amount of the mask on your wet face and neck
Avoid the area around the eyes
Keep the mask on for 5 minutes for delicate skin and 10-15 minutes for normal skin
Rinse it off with lukewarm water
Temporary redness may appear due to lactic acid which is normal
For best results, use at least once a week
Patch test on face is recommended
Hair Finishing Stick -
Purified Water, Butylene Glycol, PVPK-90, Biopol-980, D-Panthenol, Glycerine, Jojoba Oil, Argan Oil, Sorbitol, Murumuru Butter, Benzyl Alcohol, Vitamin E Acetate
Green Tea Face Wash -
Purified Water, Decyl Glucoside, Acrylates copolymer, Sodium Cocoyl Glycinate, Glycerin, Cocamidopropyl Betaine, Juglans Regia (Walnut) Shell Powder, Fragrance, Caprylyl Glycol, Niacinamide, Sodium Hydroxide, Sodium Cocoamphoacetate, Lauryl Glucoside, Sodium Chloride, Aloe Barbadensis Leaf Extract, Caprylhydroxamic Acid, Camellia Sinensis (Green tea) Leaf extract, Cucumis Sativus (Cucumber) Fruit Extract, Sodium Gluconate, Sodium Cocoyl Glutamate, Sodium Lauroyl Glucose Carboxylate, Sodium Benzoate
Mask Mini Trio -
Purified Water, Bentonite, Kaolin, Isopropyl Palmitate, Glyceryl Stearate, Glycerin, Emulsifying Wax, Tocopheryl (Vitamin E) Acetate, Fuller's Earth, Cetyl Alcohol, Decyl Glucoside, French Red Clay, Magnesium Aluminum, Silicate (Veegum) , C15-19 Alkane (Emogreen L19) ,Carica (Papaya) Fruit Extract , Polysorbate 20 , Titanium Dioxide , Benzyl Alcohol , Hyaluronic Acid , Xanthan Gum , Allantoin , Potassium Sorbate, Sodium Benzoate, Crocus Sativus (Saffron) Flower (dry), Daucus Carota Sativa (Carrot) Oil, Prunus Amygdalus, Dulcis (Sweet Almond) Oil, Citrus Aurantium Dulcis (Orange) Peel Extract, Lactic Acid, Orange Oil.
Vegan | Cruelty-free

"Clean" Promise: The product is formulated without Parabens, SLS/SLES, Phthalates, Formaldehydes, Mineral Oil, Oxybenzone, Talc, and Phenoxyethanol. Synthetic Fragrance (if any) is below 1% concentration.

Note: We care about your allergies. Please be cautious that this product may contain nut extracts.

Use within 12 months of opening.

Dimensions: Hight- 123 x Width- 17 x Length- 17 (mm)

Manufacturer Details: 

Country of origin: India.
Mantras We Swear By
Reimagining ancient wisdom
Sustainable packaging
Vegan & Cruelty-free
Clean ingredients
Give back mantra
We Are Trusted By Our Clients
Person who have freezy hair, this product for them easy to use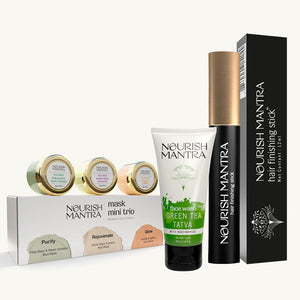 ---
Clear Skin and Sleek Hair Combo
Rs. 1,065.00
It's a really good product, such of help for me for my free tangled hair, easy to use and has no sticky deposit on hair, no need to even wash hair after using, like hair sprays.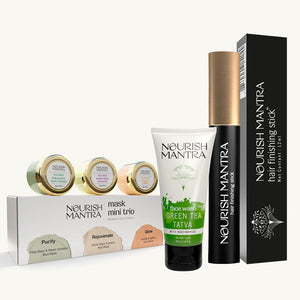 ---
Clear Skin and Sleek Hair Combo
Rs. 1,065.00
This product holds baby hair in place until next wash, really happy with the purchase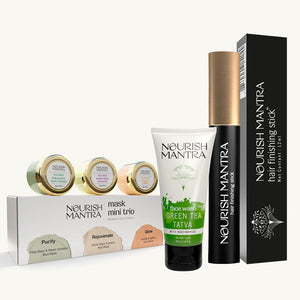 ---
Clear Skin and Sleek Hair Combo
Rs. 1,065.00
Excellent product. I have a lot of baby hair and they disappeared like magic! Highly recommend this product.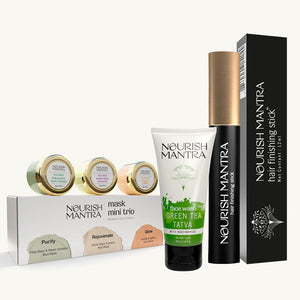 ---
Clear Skin and Sleek Hair Combo
Rs. 1,065.00
Why Choose Us?
100% Vegan| Cruelty-Free
We love animals as much as you! That's why we make sure that we do not use any animal-derived ingredients in our products. We are also cruelty-free, meaning none of our products are tested on animals.
Rare And Pure Ingredients
Our ingredients are pure and plant-based. We go to great lengths to source our ethically sourced ingredients. For example, we source Moroccan Lava Clay used in our cleansers from the lake beds of Morocco's Atlas Mountains. We believe in full ingredient disclosure. We take pride in listing our rare and pure ingredients on our packaging as well as on our website under each product.
Our Clean Promise
While not all chemicals are bad, there are hoards of chemicals in skin care products that you must avoid! At Nourish Mantra, we formulate our products without Parabens, SLS/SLES, Phthalates, Formaldehydes, Mineral Oil, Oxybenzone, Talc, Phenoxyethanol and Synthetic Fragrances.