How To Use
Use your fingertips to massage a small amount of the gel onto the face until completely absorbed.
Ingredients To Introduce Themselves
Witch Hazel
It balances skin oils to prevent clogged pores and breakouts. This plant-based ingredient also acts as an astringent to shrink pores and reduce inflammation.
Hyaluronic Acid
Filling the skin with moisture, hyaluronic acid tightens the overall complexion and helps to firm the facial contours for a more youthful appearance
Rose Flower Distillate
Highly efficient in maintaining the pH balance of the skin, rose water is suitable for all skin types. Its anti-inflammatory properties aid in healing scars and reducing the redness of irritated skin.
More Information
Extremely lightweight and easily absorbed
Great for summer & monsoon seasons when any other cream is just too heavy
Soothes any irritation
Perfect for all-day wear
Use your fingertips to massage a small amount of the gel onto the face until completely absorbed.
Aqua, Glycerin, Polysorbate 20, Rose Flower Distillate (Rosa Damascena), Ammonium Polyacryloyldimethyl Taurate, Betaine, Aloe Vera Leaf Extract (Aloe Barbadensis), Witch Hazel Extract (Hamamelis Virginiana), Cucumber Fruit Extract (Cucumis sativus), Niacinamide (Vitamin B3), Benzyl Alcohol, Hydroxyacetophenone, Caprylyl Glycol, Hyaluronic Acid, Grapefruit Seed Oil (Citrus Paradisi), Sodium Gluconate
Vegan | Cruelty-free

"Clean" Promise: The product is formulated without Parabens, SLS/SLES, Phthalates, Formaldehydes, Mineral Oil, Oxybenzone, Talc, and Phenoxyethanol. Synthetic Fragrance (if any) is below 1% concentration.

Note: We care about your allergies. Please be cautious that this product may contain nut extracts.

Use within 12 months of opening.
Dimensions: Hight- 45 x width- 68 x length- 68

Manufacturer Details: Cosmic Nutracos Solutions Pvt. Ltd., Plot 12, Appareal Park Cum Industrial Area, Katha Baddi, Distt Solan - 173205 (H.P.)
Country of origin: India.
Ask Us Why
How do I choose a face moisturizer?
To choose a face moisturizer for your skin, you need to evaluate your skin type and preferences. For example, a person with oily skin should go for gel-based moisturizers as they are lightweight and do not clog your pores. You should also consider your preferences, like whether you want natural, organic, or ayurvedic skincare products.
Why is it important to moisturize your face?
Without sufficient moisture, your face can become dry or rough. A moisturizer helps shield your skin's barrier from irritation, environmental stressors, and other pollutants. This is why it is important to moisturize your face, as it creates a barrier between the skin and the environment.
How do you know if a moisturizer is not suitable?
If your moisturizer is making your face very oily or causing breakouts and redness, it's a sign that you should change it as soon as possible. A moisturizer that does not remove dryness from your face is also not suitable for your skin.
What happens if you moisturize your face every day?
Daily moisturization will give your face a youthful glow. It also promotes the healthy growth of skin cells and helps you keep skin issues like wrinkles, dryness, and acne at bay.
Does moisturizer make skin fair?
A good face moisturizer that contains natural and pure ingredients can help brighten your skin and improve your skin texture. Look for a moisturizer that contains Vitamin C since it has been clinically proven to lighten dark spots and improve skin tone.
Can I apply moisturizer without washing my face?
We recommend that you clean your face properly before moisturizing it. Your face may have dirt, bacteria, or dead skin cells on its surface, which can clog your skin pores to cause breakouts. When you wash your face with a natural cleanser, the impurities are washed away. Your moisturizer can then seep into your skin pores to hydrate it well.
Can moisturizer cause pimples?
A non-comedogenic moisturizer does not clog your skin pores. So it wouldn't lead to pimples or breakouts. You can also look for natural moisturizers free from harmful chemicals. These moisturizers contain gentle ingredients that do not cause irritation or pimples on the skin.
How long should you leave moisturizer on your face?
Your moisturizer, once applied, should remain on your skin until the next time you wash your face. But it does not mean that you leave your moisturizer on for 24 hours or 48 hours. You need to wash your face twice a day, which means that your moisturizers should be seated on your skin for not more than 12 hours a day.
What to look for in a moisturizer?
Look for ingredients like hyaluronic acid, glycerin, and dimethicone. These help in keeping the skin hydrated. If you have dry skin, shea butter is a great ingredient. People with oily skin should look for a gel-based formulation, while those with dry skin can go for a cream-based moisturizer.
Mantras We Swear By
Reimagining ancient wisdom
Sustainable packaging
Vegan & Cruelty-free
Clean ingredients
Give back mantra
We Are Trusted By Our Clients
This product is perfect for people who hate the feeling of sticky and greasy face cream. Its gel formula is really hydrating and light.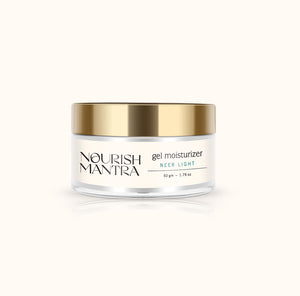 ---
Neer Light Gel Moisturizer
Rs. 380.00
I love everything about this product, it is light, quick absorbent, hydrating and soothing.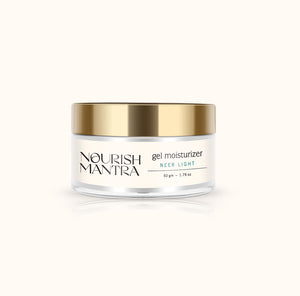 ---
Neer Light Gel Moisturizer
Rs. 380.00
It is difficult to find products that do not irritate my acne-prone skin. This is why I am glad I found this.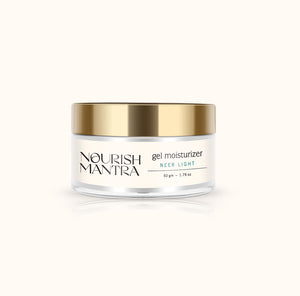 ---
Neer Light Gel Moisturizer
Rs. 380.00
Not only have I used this product for my oily skin but also recommended it to everyone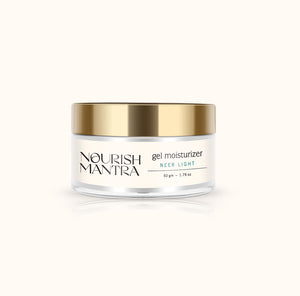 ---
Neer Light Gel Moisturizer
Rs. 380.00
Why Choose Us?
100% Vegan| Cruelty-Free
We love animals as much as you! That's why we make sure that we do not use any animal-derived ingredients in our products. We are also cruelty-free, meaning none of our products are tested on animals.
Rare And Pure Ingredients
Our ingredients are pure and plant-based. We go to great lengths to source our ethically sourced ingredients. For example, we source Moroccan Lava Clay used in our cleansers from the lake beds of Morocco's Atlas Mountains. We believe in full ingredient disclosure. We take pride in listing our rare and pure ingredients on our packaging as well as on our website under each product.
Our Clean Promise
While not all chemicals are bad, there are hoards of chemicals in skin care products that you must avoid! At Nourish Mantra, we formulate our products without Parabens, SLS/SLES, Phthalates, Formaldehydes, Mineral Oil, Oxybenzone, Talc, Phenoxyethanol and Synthetic Fragrances.
Neer light gel moisturizer is amazing
I bought the product recently and found it to be for skin. There was no adverse effect of the product on my skin. So I'm definitely going to reuse it..