How To Use
Apply a pea-sized amount of this serum on clean and damp skin, avoiding the area around the eyes. Use fingertips to massage it evenly across the face and neck gently. Use everyday in the morning.
Ingredients To Introduce Themselves
Citrus Lemon Juice
It is rich in vitamin C which makes it a powerful antioxidant. This natural exfoliating and purifying agent helps lighten spots and pigmentation.
Pachyrhizus Erosus Root Extract
Traditionally, Bengkuang (Pachyrhizus erosus) was used as a sunscreen and a skin brightening cream. Its active compounds work as antioxidants, helping the skin glow.
Punica Granatum Fruit Juice
Punica Granatum (Pomegranate) has high levels of Vitamin C and antioxidants that prevent cell damage and speed wound healing. It also provides relief from sun damage and skin aging.
More Information
Increased production of collagen, elastin and hyaluronic acid.
Fights signs of skin aging
Improves skin texture
Apply a pea-sized amount of this serum on clean and damp skin, avoiding the area around the eyes. Use fingertips to massage it evenly across the face and neck gently. Use everyday in the morning.
Aqua, Pentylene Glycol, Propanediol, Sodium Acrylates Copolymer, Glycerin, Propylene Glycol, Lecithin, Papaya Fruit Juice (Carica Papaya), Lemon Juice (Citrus Limon), Limonia Acidissima Wood Powder, Bengkuang Root Extract (Pachyrhizus Erosus), Pomegranate Fruit Juice (Punica Granatum), Tocopheryl Acetate, Rosemary Extract (Rosmarinus Officinalis), Benzyl Alcohol, Hydroxyacetophenone, Caprylyl Glycol, Achyrocline Satureioides Flower Extract, Plantago Lanceolata Leaf Extract, Fabiana Imbricata Leaf Extract, Verbascum Thapsus Extract, Butylene Glycol, Sodium PCA, Sodium Hyaluronate, Acetyl Glutamine, SH-Oligopeptide-1, SH-Oligopeptide-2, SH-Polypeptide-1, SH-Polypeptide-9, SH-Polypeptide-11, Bacillus/Folic Acid Ferment Filtrate Extract, Sodium Gluconate, Maltodextrin
Vegan | Cruelty-free

"Clean" Promise: The product is formulated without Parabens, SLS/SLES, Phthalates, Formaldehydes, Mineral Oil, Oxybenzone, Talc, and Phenoxyethanol. Synthetic Fragrance (if any) is below 1% concentration.

Note: We care about your allergies. Please be cautious that this product may contain nut extracts.

Use within 12 months of opening.
Dimensions: Hight- 100 x width- 40 x length- 73

Manufacturer Details: Cosmic Nutracos Solutions Pvt. Ltd., Plot 12, Appareal Park Cum Industrial Area, Katha Baddi, Distt Solan - 173205 (H.P.)
Country of origin: India.
Ask Us Why
A face serum is a lightweight, thin-viscosity skincare product with concentrated active ingredients. These large quantities of actives ensure serum's easy penetration into the skin and show quick results.
What Are Some of the Powerful Ingredients in a Face Serum?
Retinol, hyaluronic acid, vitamin C, and AHA are some of the most powerful ingredients in a face serum.
How Does a Serum Differ from a Moisturizer?
Serums are lighter and thinner than moisturizers and target varied skin issues. On the other hand, moisturizers are heavier and are used to hydrate and nourish the skin.
What's the Difference Between a Face Oil and a Serum?
Face oils have thicker viscosity with larger molecule sizes that can only penetrate the skin's surface. On the other hand, serums have thin viscosity with smaller molecules that seep deeper into the skin. Face oils are primarily used for hydration and serums are used to combat specific skin issues.
Can I Use Serum If I Have Skin Problems?
This completely depends on your skin problem and the kind of serum you want to use. The best course in such a situation is to consult a dermatologist.
What Is the Best Time to Use a Serum?
It is advisable to use a serum twice a day. This means that the best time is during your morning and evening skin care routines.
How Should Serums Be Stored?
Your serums should be kept in dark places, away from extreme cold or heat. Some serums like Vitamin C can also be refrigerated. To be on the safer side, always check your serum's label for instructions on storing.
What Type of Serums Work Best for Specific Skin Types?
Every skin is unique and experiences different skin concerns. For example, people with fine lines and wrinkles should use a serum that contains retinol. On the other hand, people with pigmentation or dark spots should use a serum that contains Vitamin C.
At What Age Should I Start Using a Serum?
You can start using a serum as early as your 20s, as it will help you combat and prevent many skin issues in the future.
Are Nourish Mantra Serums Suitable for Everyone?
Yes, Nourish Mantra serums are suitable for everyone and show incredible results with all skin types. However, products like Acne-clarifying facial serum are meant for specific issues and show excellent results against those concerns.
Can a Serum Be Used Alone?
A serum is most effective when it is preceded and followed by a proper skincare routine. This could also mean a simple cleanse, tone, treat and moisturize.
Apply a pea-sized amount of serum on clean and damp skin, avoiding the area around the eyes. Use your fingertips to massage it across the face and neck gently. Give it around 60 seconds to absorb, then top it off with a face cream or moisturizer.
Can I Use Two Serums at Once?
Yes, you can use two serums simultaneously. However, avoid using more than two at once.
Do Serums Have a Particular Texture?
Yes, most serums have a similar thin-viscosity texture as they are lightweight and easily absorbable.
Can a Serum Be Applied Around the Eyes and to the Lash Area?
You should not use regular serums around your eyes and lashes as they might contain ingredients not suited for that area.
Why Should I Use a Serum?
Serum's high concentration of actives helps you target specific skin issues most effectively. They treat issues such as aging, pigmentation, dullness, etc., and show quick, visible results.
When Should I Apply Face Serum?
You can apply face serums on a clean face in the morning or evening. Do not forget to top it off with a nourishing moisturizer.
How Much Face Serum Should I Use?
Since a face serum is filled with actives, you only need a few drops on your face. Just do not forget to massage it properly across the face and neck.
Can I Use Serum Without Toner as Well?
Technically yes, you can use a serum without a toner. However, a toner removes all remaining dirt off your face which is why it is advisable to use one before the serum. Though only use an alcohol-free and fragrance-free toner.
Mantras We Swear By
Reimagining ancient wisdom
Sustainable packaging
Vegan & Cruelty-free
Clean ingredients
Give back mantra
We Are Trusted By Our Clients
This serum is my lifesaver since I spend most of the day in front of the screen, and it does a great job of tackling harsh lights.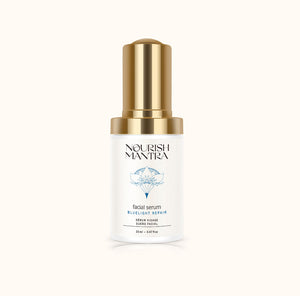 ---
Bluelight Repair Serum
Rs. 695.00
Have been using this daily for two months and I am seeing great results. Everyone who is exposed to digital screens should definitely try it!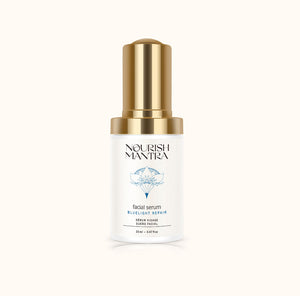 ---
Bluelight Repair Serum
Rs. 695.00
I LOVE this product..! It does what it says in the description. Within the first few weeks, my skin was glowing! So, it's a 10/10 for me.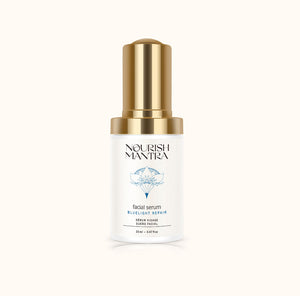 ---
Bluelight Repair Serum
Rs. 695.00
I have been using this for a month and there is a massive reduction in fine lines, wrinkles, and dark spots. Worth it!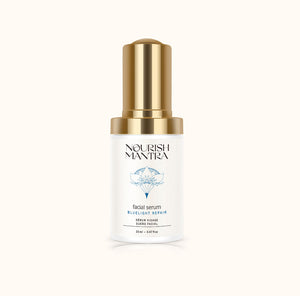 ---
Bluelight Repair Serum
Rs. 695.00
Why Choose Us?
100% Vegan| Cruelty-Free
We love animals as much as you! That's why we make sure that we do not use any animal-derived ingredients in our products. We are also cruelty-free, meaning none of our products are tested on animals.
Rare And Pure Ingredients
Our ingredients are pure and plant-based. We go to great lengths to source our ethically sourced ingredients. For example, we source Moroccan Lava Clay used in our cleansers from the lake beds of Morocco's Atlas Mountains. We believe in full ingredient disclosure. We take pride in listing our rare and pure ingredients on our packaging as well as on our website under each product.
Our Clean Promise
While not all chemicals are bad, there are hoards of chemicals in skin care products that you must avoid! At Nourish Mantra, we formulate our products without Parabens, SLS/SLES, Phthalates, Formaldehydes, Mineral Oil, Oxybenzone, Talc, Phenoxyethanol and Synthetic Fragrances.
Since I have been using this serum, my skin feels much more hydrated all the time. Even the dullness caused by sitting in front of the laptop all day has vanished. These days my skin is radiant and glowing!